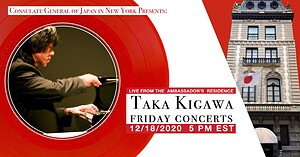 Recital/Livestream - "Live from the Ambassador's Residence"
Time
5:00 PM (Eastern Standard Time)
Venue
The Official Residence of the Japanese Ambassador in New York
New York NY
USA
Program
Claude Debussy: Estampes
Pagodes
La soirée dans Grenade
Jardins sous la pluie
Frederic Chopin: Prelude in C-sharp minor, Op. 45
Frederic Chopin: Ballade No. 1 in G minor, Op. 23
Frederic Chopin: Polonaise No. 6 in A-flat major, Op. 53, "Heroic"
Tōru Takemitsu: Rain Tree Sketch II
- In Memorium Olivier Messiaen -
Beethoven: Piano Sonata No. 14 in C-sharp minor, Op. 27, No. 2, "Sonata quasi una fantasia"
I. Adagio sostenuto - attacca
II. Allegretto - attacca
III. Presto agitato
More Information