Review
LIVE REVIEW: TAKA KIGAWA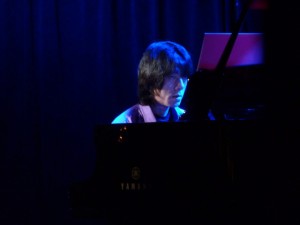 I'll admit it right up front: I'm not the biggest fan of Pierre Boulez's compositions. While they are certainly some of the most important works of the 20th century, I find they can lack a certain liveliness, passion, soul, and wit: those human qualities that we seek when listening to abstract music. Much of this is deliberate, part of the postwar aesthetic that Boulez and his contemporaries exalted. Boulez famously wrote "Schoenberg is Dead" as a way to separate himself from what he perceived as the overly emotive and Romantic qualities of prewar12-tone works.
Which is all the more reason to congratulate, or rather, scream my unadulterated thanks to Taka Kigawa, the piano virtuoso who breathed life into this heavy, cold modernist Monday night at (Le) Poisson Rouge. Kigawa played one of the most imposing works of the immediate postwar era, Boulez's staggeringly difficult Second Sonata for Piano, which, despite my previous misgivings on the composer, is a nuanced and multi-faceted piece. It would have been a crime to play Boulez with the late-Romantic fervor of Liszt or the impressionistic air of Debussy just to inject some emotion. Instead, Kigawa approached Boulez on his own terms, taking the music to new realms of expression and poignancy without ever betraying the composer's brilliant, yet academic, creation.
Playing from memory, Kigawa knew his way around every turn, every sustained overtone, and ghost note, delivering a deliberate effortlessness in the opening movement. Boulez's music is brainy and can be difficult to approach as a listener, but the second movement had a mysterious delicacy and, dare I say, a tenderness to it under Kigawa's fingers. The fourth and final movement was the finest, eschewing the relatively even dynamic of the previous movements and rushing forth in an exciting and animated penultimate section, before slinking away with an almost defeated denouement. What was perhaps most striking about Kigawa was his impeccable technique with this incredibly taxing program of music that tests the very limits of what a piano can do. He opened his program with Stockhausen's Klavierstücke X, a work filled with constant tone clusters and glissandi, featuring perhaps more virtuosic modernist fireworks than the Boulez. Kigawa took an entirely novel and whimsical approach to playing this work, donning fingerless fleece gloves to aid in the glissandi and clusters. The effect was practical, too, in that Kigawa achieved an unprecedented evenness of tone and sound production. He moved effortlessly between glissando, chunky chords, disjunct angular melodies, and full-arm clusters, never once sounding as though he was using a new technique. At first it had a reductive quality, but eventually, it became clear that Kigawa was perhaps staying truer to Stockhausen's notation than any version I've heard. The final section, with its throbbing, fast repeated notes, was especially emotional, bringing the work to a dynamic climax.
Between these two works, Kigawa presented two pieces by Kaija Saariaho, my favorite living composer. Her Prelude and Ballade were wonderful contrasts to the midcentury thorniness of Stockhausen and Boulez. Kigawa displayed incredible versatility, crafting an atmospheric, slow, broken-chord ostinato with delicate melodic runs above it. Saariaho likes to set up one harmonic framework and then explore the intricacies of that soundworld. Often she does this through varied tone colors, but with the limited timbral options of the piano, Kigawa turned articulation into an constellation of colors, finding subtleties of expression that gave the piece tremendous excitement.
Audible "yesses" resonated throughout the downtown crowd when Kigawa announced he would encore with one of Ligeti's divine Etudes, choosing the lovely and ephemeral "Cordes vides." Following this with the borderline kitsch of Debussy's "Fireworks" Prelude, Kigawa demonstrated his ease moving between disparate styles, techniques, and eras. If (Le) Poisson Rouge was looking to make a statement, it succeeded, kicking off its fall classical schedule with a barnburner, one of the finest solo piano recitals I've ever witnessed.
Jake Cohen

Consequence of Sound