UNA AVENTURA EXTRAORDINARIA (An Extraordinary Adventure)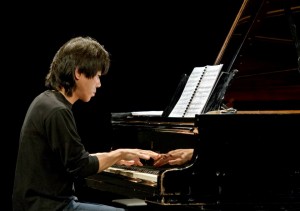 Festivales integrales / Intérprete: Taka Kigawa / Programa: Obra para piano de Elliott Carter / Sala: Centro de Experimentación del Teatro Colón / Nuestra opinión: excelente
Una de las mejores definiciones de la obra de Elliott Carter la dio Daniel Barenboim cuando habló de su "concentración permanente e inquebrantable en la sustancia musical". La idea alude, por un lado, a la coherencia de esa obra, una de las aventuras más extraordinarias del modernismo musical; por el otro, al modo en que el compositor estadounidense cavó más y más profundamente en una misma poética: con típico pragmatismo norteamericano, él tomó lo que le servía de aquí y de allá, pero se mantuvo valientemente ajeno a cualquier moda. Carter vivió casi 104 años (murió en 2012) y, aunque su obra pianística parece limitada en comparación con semejante longevidad, ofrece una especie de instantánea de su itinerario, que se desplegó de la mejor manera en la inolvidable integral que el japonés Taka Kigawa presentó en el CETC.
Pensemos en la temprana y bellísima Sonata (1945), en la que, por debajo de cierta superficie telúrica que hace pensar en Aaron Copland y en el impulso hímnico de Charles Ives, se insinúa ya la extrema complejidad del Carter posterior, el de 90+ (1994), o el de Intermittences (2005), que Elena Bashkirova había tocado ya en Buenos Aires en 2008. Pero las enormes demandas técnicas resultan en Carter una función de la expresividad. El tiempo es el parámetro por excelencia de esta música. Carter reinventa la polifonía y lo hace de una manera muy personal: cada voz tiene su propio ritmo, como personajes de una misma novela que, sin embargo, nunca se encuentran; esto depara un pulso inestable de muy ardua realización, como sucede en "Matribute", el tercer número de Tri-Tribute (2007-08). Hay que hablar casi de un contrapunto del gesto y la textura, que parece por momentos sustituir al contraste temático. Como sabía Charles Rosen, intérprete ideal del compositor, esta música depende tanto, o más, del color y de las dinámicas que de la nota. Kigawa es un virtuoso descomunal y su lectura fue ejemplar de punta a punta. Entre las demandas de la música de Carter, está la de una interpretación sensible, decisiva para que se transparente su sentido. Kigawa no ocultó las múltiples capas de cada pieza bajo una apariencia compacta; por el contrario, las puso al desnudo y, al hacerlo, obligó también al oyente a trabajar casi tanto como él.
Night Fantasies (1980) es probablemente la obra maestra de Carter para piano; a propósito de ella, el compositor habló de las miniaturas de la Kreisleriana, de Robert Schumann, y algo de ellas queda en su forma fragmentada, en sus repentinos cambios de carácter. La versión de Kigawa fue intensa y poética a la vez, con un aire casi de encantamiento romántico. Su virtuosismo volvió a ser aquí pasmoso, pero fue siempre un virtuosismo muy sobrio, cuyo gesto exacto se subordina con modestia a aquello que toca. La prueba de esta humildad estuvo en el final. Mientras lo aplaudían, Kigawa, de pie en el escenario, abrió una de las partituras y señaló, con veneración, el nombre de Carter en la primera página.
---
English Translation
Integral festivals / Performer: Taka Kigawa / Program: Complete piano works of Elliott Carter / Venue: Centro de Experimentación del Teatro Colón / Our opinion: excellent
Elliott Carter´s work was best defined by Daniel Barenboim as "permanently and unbreakably focused on the musical substance". This idea evokes, on one hand, the cohesiveness of this body of work, one of the most extraordinary adventures of musical modernism; and on the other hand, the composer´s way of digging deeper and deeper into a particular aesthetic. With a characteristic north-American pragmatism, Carter adopted what worked from here and there, while bravely distancing himself from any fashion. Carter lived almost 104 years (he died in 2012), and despite seeming limited in comparison with such longevity, his pianistic works offer a kind of snapshot of his itinerary, which unfolded in the best possible way in Taka Kigawa´s unforgettable survey at CETC. [Centro de Experimentación del Teatro Colon].
Let´s think of the early and gorgeous Sonata (1945): under a certain telluric surface reminiscent of Aaron Copland and Charles Ives´s hymnic impulse, it already hints at the extreme complexity of the later Carter: the one of 90+ (1994) or of Intermittences (2005), which Elena Bashkirova played in Buenos Aires in 2008. But Carter´s enormous technical demands are at the service of expressivity. Time is the defining parameter of this music. Carter reinvents polyphony, and he does so in a very personal manner: each voice has its own rhythm, like characters of the same novel that never meet each other. These rhythms provide an unstable pulse of arduous execution, as it happens in "Matribute", the third part of Tri-Tribute (2007-08). It is almost a counterpoint of gesture and texture that for a moment seems to substitute the thematic contrast. Charles Rosen, legendary interpreter of the composer, knew that this music depends as much, or more, on color and dynamics as on pitches. Kigawa is a stupendous virtuoso and his interpretation was exemplary from beginning to end. One of Carter´s demands is a sensitive interpretation, crucial for revealing the music´s meaning. Kigawa did not hide the multiple layers of each piece under a compact appearance; on the contrary, he exposed them and on doing so, he forced the listener to work almost as much as himself.
Night Fantasies (1980) is probably Carter´s masterpiece for piano; its fragmented form and sudden changes of character echo the miniatures of Robert Schumann´s Kreisleriana. Kigawa´s version was intense and poetic at the same time, with a feeling of romantic enchantment. His technique was again astonishing; but it was a sober virtuosity of precise gestures in humble submission to the score. The proof of this humility came in the end: while receiving his applause, Kigawa opened one of the scores and reverently pointed at Carter´s name.
(Translation by Itsaso Garcia-Acros & Miro Magloire)
Pablo Gianera

La Nación, Buenos Aires, ARGENTINA