DIFFICULT PIECES INSPIRE A PIANIST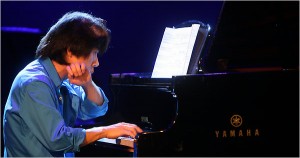 The most satisfying aspect of Taka Kigawa's performance at Le Poisson Rouge on Monday evening was the sense of clarity and apparent ease he brought to a parade of harmonically thorny and, in some cases, texturally dense piano works. He gave himself no breaks in this short but intense recital. You get an idea of how difficult the program was once you realize that the least demanding score Mr. Kigawa played was the Webern Variations (1936), a piece that taxes both the technique and imagination of a pianist intent on winning an audience to its charms.
Making listeners as passionate about the Webern as he is — Mr. Kigawa said, in comments from the stage, that it was one of his favorite works — was clearly among his goals. Where many pianists use the score's sparseness as the foundation of a disembodied, abstract interpretation — certainly a legitimate approach — Mr. Kigawa used it as the basis of a warm, shapely account that put its structural logic and occasional playfulness in the spotlight. Every phrase was carefully defined, and Webern's silences were embraced as part of the music's fabric.
Iannis Xenakis's "Evryali" (1973) is everything the Webern is not. Though not as opaque or harmonically complex as other Xenakis works, it made the Webern seem light textured and breezy by comparison. That said, harmony often takes a back seat to rhythm as the driving impulse of "Evryali." Chords are frequently repeated with an almost Minimalist insistence, but rhythmic patterns evolve. At times the work takes on a mechanistic character, like an engine gone mad, but even in these passages Mr. Kigawa was firmly in control. And when Xenakis shifts suddenly from a heavy, repetitive whirlwind passage to a moment of delicate tracery at the top of the keyboard, Mr. Kigawa negotiated the change deftly.
Like the Webern and Xenakis scores, pieces by two young composers (both born in 1971) proved an appealingly contrasting pair. "On a Clear Day" (2004) by Matthias Pintscher is a gentle, atmospheric meditation that Mr. Kigawa played with graceful restraint. Jason Eckardt's "Echoes' White Veil" (1996) is a more outgoing and eventful work, with a fast, richly dissonant opening section that melts into a quieter, more variegated finale, full of sparkling figuration and captivating pianissimo writing.
The Eckardt also has an improvisatory spirit at times, and Mr. Kigawa played it with the fluidity that a jazz player brings to an extended solo. More surprising, he brought that same sense of freedom to Pierre Boulez's First Sonata (1946). Mr. Boulez's early serial works can sound abstruse and severe, but there is more in them than that. Mr. Kigawa recast the sonata as an essay in how to apply suppleness to virtuosity, and the result was an energetic but also characterful account.
Allan Kozinn

The New York Times