Feature
TAKA KIGAWA, THE PIANIST WITH MODERN MUSIC SPECIALTY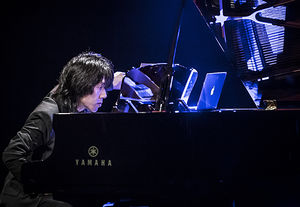 Taka Kigawa has been highly acclaimed for his performances, especially in modern music repertoires for about last decade. The concert venue, (le) Poisson Rouge, located in downtown Manhattan, has invited him to give solo recitals almost every season.
As for classical music scene in New York City, Lincoln Center and Carnegie Hall are well known, however, there are many more venues that give notable concerts. And the programs that (le) Poisson Rouge produces are very popular and well received.
The New York Times has covered his recitals nearly all the time. For his complete György Ligeti piano etudes recital held in this May, they gave him the highest praise saying as "Taka Kigawa approached these elegant, playful pieces with his customary clarity and calm... His touch is cool, yet rounded and smooth, and, even at its steeliest, his tone is never rough or harsh."
It is not unusual that standing rooms appear in his recitals. For such popularity of his, another music critic for The New York times describes "It's hard to put your finger on just what it is that makes the pianist Taka Kigawa a phenomenon, but there's no denying that he's something special. True, other pianists have made a specialty of the demanding modernist works that Mr. Kigawa favors. Webern, Boulez, Xenakis and Stockhausen are among his staples. (Bach, too.) And in his considerable technical prowess, Mr. Kigawa is not without peers... Having watched Mr. Kigawa at work several times, I have grown convinced that part of what makes him a magnetic attraction is awe: not only in the sense that his skill dazzles the listener, but also in his own evident humility and zeal."
Perhaps not a few audiences would like to hear him play not only modern music, but also other repertoires.
– SHINTARO KOBAYASHI, Mostly Classic (Japan)
---
モダニストをレパートリーにするピアニスト、木川貴幸
 木川貴幸はここ10年ほど、特にモダニストのレパートリーで高く評価されるようになったピアニストだが、ここ数年ル・ポワソン・ルージュ(Le Poisson Rouge)というダウンタウンにある会場は、ほぼ毎シーズン、彼を招聘して演奏会を行っている。
 ニューヨークのクラシック音楽というと、リンカーン・センターやカーネギーホールが有名だが、他にも注目の演奏会が開かれる会場は数多く、ル・ポワソン・ルージュが制作するアヴァンギャルドで意欲的なクラシック音楽のプログラムは人気、評価、ともに高い。
 ニューヨーク・タイムズ紙は彼の演奏会を毎回、ほぼ欠かさず批評しており、この5月に行われたリゲティのエチュード全曲演奏については、「(リゲティの)エレガントで遊び心に満ちた作品に、タカ・キガワはいつもながらの明晰さと冷静さでアプローチした。彼のタッチはクールでありながら、丸くスムーズであり、たとえ最も鋼のように強く難い箇所でも、彼のトーンがラフあるいは耳触りになることは、決してない」と最高の批評を寄せている。
 立ち見が出ることも珍しくない彼の演奏会だが、別のニューヨーク・タイムズ紙記者はその人気について、「何がタカ・キガワを『現象』としているかを見極めるのは難しいが、彼が特別であることは否定し難い。キガワ氏が好むヴェーベルン、ブーレーズ、クセナキス、シュトックハウゼンのようなモダニストの難曲を得意とするピアニストは他にも存在する。彼の多大なる技術的な能力にしても、他に類を見ないものでもない。(・・・)何回か彼の演奏を聴いて、私は彼の磁石のような魅力の一部は何であるかを確信した。それは、彼の畏敬の念にあるのだ。彼の技術が聴き手を幻惑するだけでなく、彼自身の(曲に対する)明らかなる謙虚さと熱意に聴衆は惹かれるのだ」と述べている。
 そんな彼の「熱意」を、モダニストを超えたレパートリーで聴いてみたいと思う観客も少なくないはずだ。
SHINTARO KOBAYASHI

Mostly Classic (Japan)