TAKA KIGAWA MASTERS THE CONFLICTING RHYTHMS OF LIGETI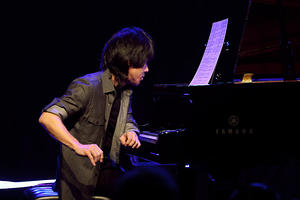 With each passing year, Ligeti's 18 études for solo piano (1985-2001) seem less like "new music" and more like classics. These pieces' connection to their ancestors — Debussy's own set of études, their movement perpetual, whether fast or slow; the grandiose drama of Liszt; the complex rhythmic games of Conlon Nancarrow — are ever more obvious.
It's a sign of the Ligeti études' transition into the standard repertory that Murray Perahia, hardly a modern-music specialist, recently said in an interview that he was learning them.
On Monday at Le Poisson Rouge, Taka Kigawa approached these elegant, playful pieces with his customary clarity and calm. Mr. Kigawa is always a poised guide through the most daunting music, as in his preternaturally unruffled evening-length survey of Pierre Boulez's complete solo piano works. His touch is cool, yet rounded and smooth, and, even at its steeliest, his tone is never rough or harsh.
The Ligeti pieces are often built around polyrhythms — the interweaving of conflicting rhythms. For example, in "En Suspens," the 11th étude, the right hand has six beats per measure, while the left has four. (This is, it goes without saying, difficult to suss out, as either player or listener.) Mr. Kigawa kept this intricacy from snowballing into chaos: In "Entrelacs," the rhythmic juxtapositions end up a complex thicket, yet his textures were lucid.
He handled the fragments of "Fem" with geometric brightness, a Mondrian painting in sound, but his turn to its more reflective, nocturnal conclusion was entirely persuasive. The pieces had internal logic, a sense of individual dramatic arcs both subtle, such as the slow build from childlike to majestic in "Fanfares," and extroverted, like the runs that collapse and remount before a pounding ending in "L'Escalier du Diable" ("The Devil's Staircase").
Mr. Kigawa's colors were vivid, never lost in the whirlwind of rhythms. Even his whites were distinct: the powdery starkness into which his high register dissolved in "Vertige," and the milkier hue in the deliberate, steady lullaby of "White on White."
Zachary Woolfe

The New York Times