Review
LIGETI ETUDES IGNITE UNDER TAKA KIGAWA'S FINGERS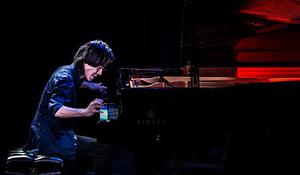 "How many pieces are there named 'Etude'?" one of my young guitar students asks when confronted with the umpteenth pedagogical ditty; "Couldn't the composer have come up with a better name?"
Hungarian composer Gyorgy Ligeti definitely had no shortage of evocative titles for his 18 studies for the modern piano, which run the gamut from the aptly descriptive Vertige, Cordes à vide, and Coloana Infinita, to the more whimsical Galamb Borong (literally "melancholic pigeon" in Hungarian, but alluding to the textures of Javanese gamelan music). These titles reflect the Etudes's ultimate intent as concert pieces, following in the well-known pianistic footsteps of Chopin, Liszt, and Debussy, while at the same time offering the player a chance to grapple with the kind of challenges they are likely to encounter elsewhere in the contemporary repertoire.
Composed over a period of 16 years, with the third book ultimately left unfinished, these Etudes also represent a personal statement for the composer—both in light of the numerous individual dedications to colleagues and friends, and in their function as compositional sketchpads of sorts, reflecting Ligeti's changing musical interests away from his densely chromatic, "micropolyphonic" style of the 1960s and '70s, and towards comparatively simpler harmonic fields and greater polyrhythmic inventiveness.
Heard in their entirety, as in Taka Kigawa's performance for the Permutations series at the Center for New Music on Tuesday night, Ligeti's three books demonstrate remarkable unity, both at the individual level (each piece being essentially monothematic in its technical pursuit), and in the way that musical ideas recur throughout the opus.
Several of the pieces, for instance, conjure barber-pole like illusions of never-ending ascent by combining parallel chromatic lines; another subset is preoccupied with navigating fiendishly busy textures, from which melodies transpire as if in filigree. Moti perpetui and bop-like rhythms propelled the evening forward, while the interspersed slower studies, focusing on resonance, timbre, and balance, provided a degree of variety. Technical considerations aside, the music was consistently enjoyable on a surface level, often moving, and sometimes transcendent.
As a pianist, Kigawa is no stranger to tackling large-scale endeavors. In his previous Bay Area appearance (part of the inaugural New Music Gathering in January 2015) he performed the entirety of Pierre Boulez's music for solo piano—from memory. Confronted with the Ligeti Etudes, his playing was focused and transparent, never overwrought or unnecessarily dramatic, as appropriate for the nature of this music. Yet at times Kigawa would suddenly catch fire, crashing chords overwhelming the small listening space of the Center and leaving the audience quaking in their wake.
Kigawa blazed through the 18 pieces in less than 90 minutes, taking only a short pause between each book, possibly to give the audience a breather more so than himself. The leanness of the presentation, the quality of the music, and the laser-like focus of the program combined for an awe-inspiring performance, one for which Kigawa, Permutations, and the Center deserve unfettered praise—all the more for making an average Tuesday into a memorable night for contemporary music.
Giacomo Fiore

San Francisco Classical Voice